BIBIONE
Discover what to do in Bibione during your holiday at our three-star hotel, including a pool, beach and unique sights to see!

You may not know it, but Bibione is an island connected to the mainland by a bridge over the Veneto coastline.
This Venetian seaside destination is lapped by the fresh, clean waters of the Adriatic Sea and is known for its long beach of fine sand that slopes gently down to the sea. Here the sea meets the Venetian lagoon, creating unique and evocative landscapes with green pine forests and golden sand.

The beach
The beach is very well equipped and spacious, full of family-friendly services and pet-friendly areas. Bibione is a perfect location both for those who want to enjoy a beach holiday and for those who want to spend some time in contact with nature. The lagoon area extends in fact into islets and reeds, wonderful for walks and excursions on foot or by bicycle. A boat trip is also recommended.

Nature
If you enjoy nature, we are sure you will be enchanted by the 360-hectare Valgrande nature reserve. In this spot of pristine nature, you can admire fallow deer, free-roaming horses, turtles, pink herons, as well as catch a glimpse of lagoon fauna such as sea bass and eels.

The Lighthouse
Also worth a visit is the Bibione Lighthouse, a tall landmark towering over the sea. Situated between the beach and the blue sea. This marvellous and suggestive place is located just 2.5 km from our hotel. The lighthouse can be reached via a new seafront cycle path or on foot, and is the perfect destination for a leisurely stroll in full contact with nature. It is a natural oasis and an ideal place for jogging or Nordic walking. Artificial cliffs and coves of fine sand, which create attractive natural pools perfect for diving, protect the area around the lighthouse. The cliffs also feature flat granite slabs, ideal for relaxing and enjoying the sun's rays. The area around the Lighthouse is also great for couples who want to relax in nature, in peace and quiet.

The park
Just 400 metres from our hotel there is also a large park, perfect for spending peaceful and relaxing moments. From the park, you can take advantage of the cycle path that starts right here and begin a beautiful tour of our area on two wheels.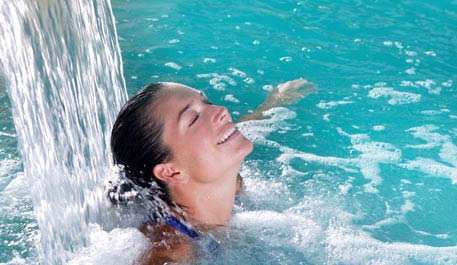 Thermal baths of Bibione
2 km from the hotel, in Bibione, there are also state-of-the-art thermal centres such as Bibione Thermae, specialising in treatments such as mud therapy, rebalancing massages, Finnish saunas and much more, all carried out by a professional staff and high-quality equipment.

Aquasplash in Lignano
For a different kind of family day out you can take advantage of the nearby water park, which is perfectly suited to the enjoyment of everyone, young and old alike. A well-maintained water park with plenty of attractions for a super day full of adrenaline and fun!

Venice
A city of incredible charm and splendour, Venice is only a little over an hour away from our hotel. Thus, it will be easy to get to one of the most beautiful cities in the world, famous for its elegance, canals and incredible timeless charm.

For a holiday dedicated to the sea, nature and sport, Bibione is the ideal destination for the entire family!
If you need information to plan your excursions, you can rely on our reception!